I have heard and read a lot about Paris and its' people.  It all seems to be true.  I arrived in Paris via bus, which is not the most luxurious or quickest way from Dublin, Ireland, but it is the cheapest over land way. (Flying via the Irish airline Ryanair would have been a little cheaper, and much quicker and easier.)
After traveling for just over 24 hours straight, I walked out of the bus terminal in Paris and found an information booth. Up until now, language had not been an issue for my travels.  This was the first non-English speaking country I was really setting out in.  I came up to the glass and said, "Bonjour".
Most countries have embraced English as the world language, and enjoy practicing it with people. France, and particularly Paris, is still highly resistant to English. You probably have heard horror stories of French people being extremely rude to English speaking tourists in France.  Speaking a few words of French to start a conversation is expected of tourists and really helps ease that tension.  Bonjour (Hello) is a must.  The next thing I said was "parlez-vous anglais?" (Do you speak English?).  I was hoping for a yes, even if begrudgingly.  Unfortunately, the information booth attendant did not.  I grimaced.  This was not going to be fun.  I knew from looking at the map the night before I left Dublin, that my hostel was about 25 minutes by car from this bus station and the bus system in Paris, while extensive, is complicated to learn. I said the only other word I could think of that might help.  "Taxis?" He looked at me for a moment then pointed towards a corridor behind me.
I took this, then a set of stairs to the open air.  I looked around for a taxi stand or sign.  I didn't see one, so I wandered around a bit. I found a lone taxi across the street, loading a couple people up. I repeated this process.  "Bonjour.  Parlez-vous anglais?"
"Very little". Oh boy.  "When will there be another taxi?" He shook his head and pointed at the ground. "Not here?" I asked.  He nodded, then, looking around he pointed down a street and said something in French, which I assumed meant, walk down this street then (Motioning to the right) take a right. There will be another Taxi stand sign (pointing to the sign I was standing next to).  I thanked him (Merci) and turned.  The street was a two lane affair with a tree lined median. The sidewalks where narrow and obviously a commercial back end of some larger building.  It wasn't scary but it wasn't pretty either.
I walked down the block, turned the corner and thank there was the promised (I assume) taxi stand.  With three taxis waiting, no less.  I went to the one in the middle, which had its window down and started another awkward foreign conversation.  This time the driver seemed to speak a little more English, though he said, again, "Only a little".
I asked if he was available. He was! Excellent. I handed him the address and name of my hostel. He looked it over and then said the sweetest sounding thing I'd heard in days. "Yes, no problem!"
We packed my guitar and backpack into the trunk of the car, and I stepped into the back seat. Then we were off.  The ride to the hostel was twisty and passed a lot of very interesting buildings.  It was strange to see how spread out the City was. The main thoroughfares were wide and newer buildings lined them.  The older areas were very narrow and the buildings seemed much older. We pulled up to the hostel, he helped me remove my bag and guitar and I paid, leaving a generous tip for getting me there quickly and not running the meter up.  I had calculated the price before I left for Dublin and had an idea of the cost ahead of time.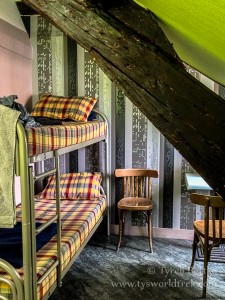 The hostel was situated in older white plastered brick building. The door was, however, locked.  There were no English signs to indicated which button (there was a keypad next to the door) to press.  I waited.  After a few minutes a group of Australians came up the sidewalk and asked if I was staying here as well.  I informed them I was, but the door was locked and I didn't know how to get in. One of the Australians, who knew French, read the other signs (mostly in French) and figured out the buttons.  We buzzed the reception and were let in.  After checking in and getting my room (on the third floor), I started to unpack what I would need immediately. The room was not small. It was tiny.  4 beds (2 bunk beds) were crammed into a room about 8×16.  The window was open letting a bit of a breeze, but the room was still quite hot.  There was no one else there at the moment, but all the other beds were obviously occupied.  The ceiling was very low (luckily I am not tall by any stretch of the imagination) and since we were on the top floor, they were steeply sloped, following the roof line.  There were ancient looking wood beams exposed between the green painted plastered wall/ceilings.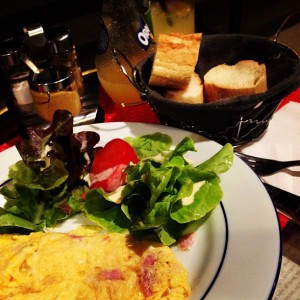 It was already late but I was starving now. I walked out on the street and looked both ways.  To my right was a corner and several closed shops.  To my left was a long narrow street. I decided to go left. Up this street I turned onto a wider avenue, and I found a small bar with outside tables on the street. I stopped to read the menu.  It was in French and I couldn't really tell what there was except lots of different omelets.  I was amused to see Omelette Du Fromage on the menu, reminding me of an old episode of the cartoon "Dexter's Laboratory". A waiter came up and asked if I wanted a menu. I took it and ordered an omelet from the menu and sat down outside. It was a warm night, and darkness had just settled in the city. The waiter came back and set a place for me, and asked if I wanted a drink.  I didn't recognize the brands on the list, so I just ordered one that had Orange as the base of the name. It turned out to be pretty good, like carbonated orange juice.
After I finished, I started back towards the hostel to sleep finally.  As I stepped into the room, towards my bunk (the top), I was reminded of the low ceiling and the large exposed beams that hang down near my bunk. The thud of my head contacting the strategically placed support would serve as decent reminder for the remainder of my stay.  I crawled into bed and quickly fell asleep, completely drained after such a long voyage.  I will be spending the next few nights in Paris, exploring the city before I head to a rural town near Villedieu Poeles to teach English to students. Check back soon to see the results of my first attempts to take pictures of the Eiffel Tower!