Sorry for the delay in updating the blog everyone. It has been very busy since I landed in Southampton, England on the 3rd of May.
To answer a few questions about the travels across the the sea: First, I was on a cruise ship. It was a newer ship, but unfortunately I can not mention the name of the ship at this point or the company. I can say that it is a larger ship than comes to my home town of Ketchikan, by about 75-100 feet and one of the newest ones in the fleet for this company. We set out from Ft. Lauderdale and spent a day each in Nassau, San Juan (Puerto Rico) and St. Maarten. Then we turned our bearings to 58 degrees and started heading towards the final port of Southampton. It took about 10 days at sea to reach, but they fill each sea day with many different activities. Also, here's what it looks like when leaving San Juan, Puerto Rico, since so many people enjoyed the last time lapse of the ship. IF the gif file doesn't start moving, try clicking on the image.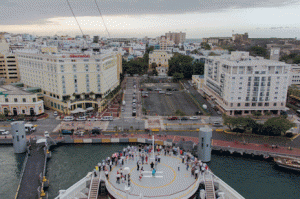 I personally took to spending many of my days exploring the art gallery area of the ship. The staff for the art auction were very friendly and I enjoyed talking about the various artists, the techniques, history, and industry itself. They had several impressive pieces on board, a handful of hand signed Picassos, a large collection of Thomas Kinkades, a few Goya etchings, a couple early Rembrandt etchings, some 13th century manuscript pages, tons of Peter Maxs. It was a wide variety of material but very fascinating. I attended the auctions even and they were a great deal of fun. If you ever find yourself aboard a cruise with an art auction I highly recommend it. They also put on several seminars about specific artists, what makes their art special and why they are the top of their fields.
There were many activities, from Zumba and other dancing classes, a flash mob of "Thriller", art classes with a Miami based artist, seminars on art, jewelry and guest speakers on topics like maritime history, pirates and others, comedians, acrobatic acts, magic acts, vocal and other musical acts. Quite the assortment to keep you occupied while crossing the Atlantic. Also tons of food. A buffet style casual dining area, a main dining room, and several other specialty restaurants, bars, cafes and lounges. They also had a glass making show going on. On top of the ship, a full on glass studio for blowing and forming all kinds of pieces that they held most sea days for a few hours to see the art and skill involved in the process. The people aboard the ship were all very friendly, crew and guests alike. I even managed to get a signature on my guitar while I was on board, from one of the vocalist acts.
Now, while cruise ships are massive, their design is such that they actually get to rocking and rolling quite a bit in rough seas. Luckily I am not one to get sea sick, but when the waves topped 16 feet seas, we were swaying and churning pretty well. It kind of reminded me of home actually. Luckily the weather never got too bad. A couple rainy spells, but mostly sunny and warm. I had always thought I wouldn't care for cruising, and I still think that I wouldn't care for the short cruises (like the 3 and 5 day cruises to Mexico and the Caribbean) but I really enjoyed this 13 night voyage, and would gladly do it again.
My favorite part of the cruise was meeting new people though. At dinner, everyone would dress up to "Smart Casual" and be seated (if you preferred) with other people. Most people on this trip were veteran cruisers, and several were even veterans. I sat one night at a table with an Australian couple, a solo traveler that worked in the telecom industry from the US and a couple from the US, the husband of which had served in WW2. Of course as the introductions go around the table, I usually go first or last (being as I was always the youngest at the table). Being from Alaska always gets raised eyes and smiles. Then explaining my journey (as quickly as possible) gets even more surprised exclamations and congratulations. Being sat with people you don't really know was great fun. I sat with the same couples a few times different nights, which was even better.
While I was the youngest solo traveler on the ship, I found it very easy to chat with anyone, as I always have. It struck me as funny that as I sat talking with some people who had been retired for years and cruised 20 times or more, all over the world, or have traveled in their careers to places scattered across the continents, they always seemed impressed, or amazed by my adventure, even though I'd only just left the country! There was one woman who had just finished telling me about her travels all over Europe for her job in one breath and was simply fascinated by my adventure with the next. I told her that mine didn't sound as impressive after hearing all her traveling, and she pointed out that while she had been to many places, it was over many years. (She pointed out that it was over the course of 2 of my lifetimes). She explained that she found what I was doing so impressive because I am doing it all in one run of it.
The experience was a great one and I hope to do it again when I cross the Pacific Ocean later in the journey. Until then, I have many miles to go, and many places to see. Stay tuned for a blog and pictures from Stonehenge!